Mongolia gets aid to boost education
0 Comment(s)Print E-mail China Daily, 09 26, 2018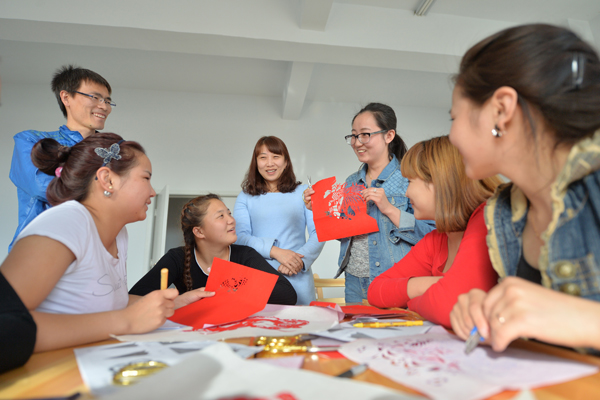 Chinese teachers show Mongolian students how to make papercuts in Xiliin Gol League, Inner Mongolia. [PHOTO BY GUO PENGJIE/FOR CHINA DAILY]
ULAN BATOR-China's aid is boosting the development of Mongolia's education system, says Mongolia's Education Minister Tsedenbal Tsogzolmaa.
Bilateral cooperation in the education sector has increased in recent years, and "China has significantly contributed to our country's efforts to end the system of three shifts in schools by giving aid for new schools and kindergartens," says Tsogzolmaa.
According to the minister, a total of 21 schools and kindergartens will be built in Mongolia with aid from China by 2020.
Currently, seven schools and one kindergarten are under construction in the Mongolian capital Ulan Bator.
The Mongolian government plans to end the system of three shifts in schools by 2020 in a bid to improve access and the quality of general education, says the minister, adding that to this end, Mongolia will have to build at least 50 new schools.
In addition, she says that China is helping Mongolia to develop a skilled workforce.
"China is the most popular overseas study destination for Mongolian students," she says.
"The number of Mongolian students choosing to study in China is growing. And the number of Mongolian students who receive Chinese scholarships has continued to grow year by year," she adds.
Data shows that since 2012, more than 2,500 Mongolian students have received Chinese government scholarships, and the number has risen to 358 this year.
The number of students from China's Inner Mongolia autonomous region who study in Mongolia has also increased, says Tsogzolmaa. Also, students from both sides serve as a bridge to promote friendship between the two peoples and two countries, she adds.
The minister says Mongolia is keen on enhancing bilateral relations and cooperation with China in education, science, culture and sports under the Belt and Road Initiative.
The initiative proposed by China in 2013 offers a huge opportunity for Mongolia and other participating countries to expand relations and cooperation with China in various fields, Tsogzolmaa says, citing infrastructure, economy, education and culture.
Next year marks the 70th anniversary of diplomatic relations between Mongolia and China, Tsogzolmaa says, expressing the hope that the neighboring countries will take this opportunity to strengthen ties and cooperation in all areas.
"We are planning to organize a series of events," she says.
"For instance, Mongolian Culture Days will be organized in Beijing and in Hohhot, the capital of North China's Inner Mongolia autonomous region. And Chinese Culture Days will be held in Mongolia next year."