China's economic activity holds steady despite uncertainties
0 Comment(s)Print E-mail Xinhua, 05 16, 2018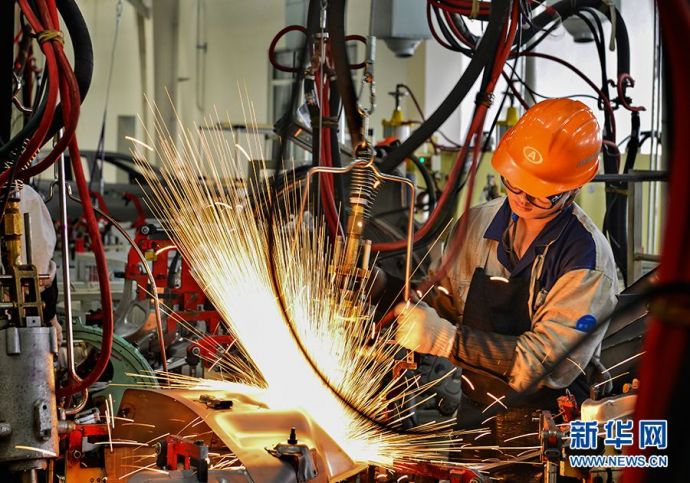 BEIJING, May 16 (Xinhua) -- China's economic activity held largely stable in April, with strong momentum in the industrial sector buffering impacts from slowing retail sales and fixed asset investment, data showed Tuesday.
China's industrial output grew 7 percent last month, quickening from the 6-percent rise in March and easily beating market expectations of around 6.4 percent, according to data from the National Bureau of Statistics (NBS).
In the first four months, industrial output rose 6.9 percent, compared with the 6.8-percent gain in the first quarter.
"China's economy maintained its trend of steady development in April," NBS spokesperson Liu Aihua said.
However, it is worth noting that the economy still faces growing external uncertainties and the acute problems of unbalanced and inadequate domestic development, Liu added.
Asked about the trade frictions between China and the United States, Liu said the possible influence on the Chinese economy has not been fully reflected in the short term.
A breakdown of the data showed the industrial structure continued to improve, with production in high-tech industries and the equipment manufacturing sector expanding by 11.8 percent and 10.3 percent, respectively, last month.
Output of new energy vehicles saw a surge of 82.2 percent year on year during the period, while industrial robot production jumped by 35.4 percent.
Industrial output, officially called industrial value added, is used to measure the activity of designated large enterprises with annual turnover of at least 20 million yuan (about 3 million U.S. dollars).
Output in the mining sector fell 0.2 percent year on year amid a government drive to restructure and optimize the industry.
China plans to cut ineffective steel capacity by 30 million tonnes and coal capacity by 150 million tonnes in 2018, according to a government work report released earlier this year.
Ownership analysis showed that industrial output of state-holding enterprises was up 7.7 percent, while industrial output of enterprises funded by overseas investors increased 6.8 percent.
While the supply side of the economy is showing strong resilience, Tuesday's data showed consumer and investment demand is under downward pressure.
China's retail sales of consumer goods grew 9.4 percent year on year to reach 2.85 trillion yuan in April, retreating slightly from the 10.1-percent rise seen in March.
Fixed-asset investment rose 7 percent in the first four months, down from 7.5 percent for January-March and marking growth deceleration for two consecutive months.
Although fixed-asset investment growth eased, the structure of investment continued to optimize, with more support for economic transformation and improving supplies, the NBS pointed out.
In April, the job market remained steady, with the surveyed unemployment rate in urban areas at 4.9 percent, 0.2 percentage point lower than that in March.
Taking note of the bright spots of restructuring, Zhang Yiping, an analyst with China Merchant Securities, predicted China's economy will stay steady in the second quarter.
"There is no need for pessimism over the whole year's performance," Zhang said.
Commenting on Tuesday's data, Asian investment bank Nomura said China will further fine-tune its policy stance to ensure more stable growth, with programs such as pledged supplementary lending to support homebuyers in lower-tier cities and speed up fiscal spending.
Earlier data showed China's economy expanded 6.8 percent year on year at comparable prices in the first three months of 2018, well above the government's annual target of around 6.5 percent.