Hangzhou Philharmonic Orchestra receives warm welcome in Athens
Marios Lolos

0 Comment(s)Print E-mail Xinhua, 04 18, 2018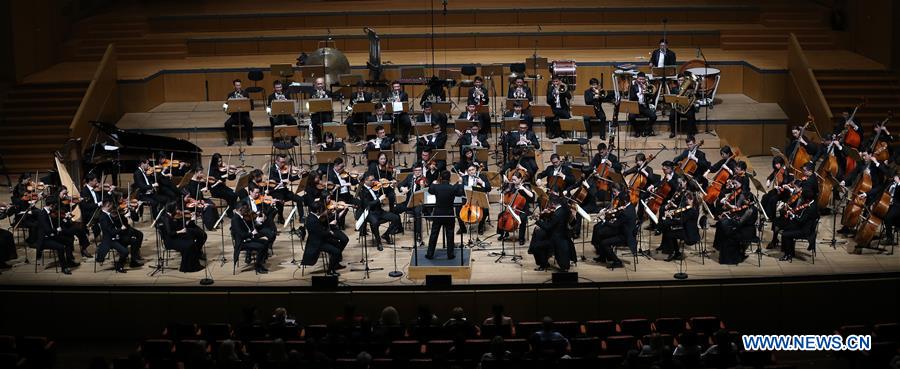 Artists of Hangzhou Philharmonic Orchestra (HPO) perform at the Athens Concert Hall in Athens, Greece, on April 16, 2018. The Chinese orchestra performed at the Athens Concert Hall as part of the Greece-China Year of Cultural Exchange and Cultural Industry Cooperation, which started last spring. (Xinhua/Marios Lolos)
ATHENS, April 17 (Xinhua) -- Artists of the Hangzhou Philharmonic Orchestra (HPO) received a warm welcome by Greek audiences here on Monday evening, during their first performance as part of their European tour.
The Chinese orchestra performed at the Athens Concert Hall as part of the Greece-China Year of Cultural Exchange and Cultural Industry Cooperation, which started last spring.
The ensemble conducted by Yang Yang, its artistic director and chief conductor, impressed Greek music lovers, performing demanding masterpieces, such as Richard Wagner's Der fliegende Hollander's Overture, Dmitri Shostakovich's Violin Concerto No. 1 in A minor and Sergei Rachmaninoff's Symphonic Dances.
Although for HPO it was the first ever performance in Greece, Yang has a special link to Athens. "In 2006 we won the First Prize at the Dimitri Mitropoulos International Competition for Conductors here," he said.
Thanassis Apostolopoulos, deputy artistic director of Athens Concert Hall, was among the audience in 2006, he told Xinhua few minutes before Monday evening's concert.
He was impressed by Yang Yang's outstanding performance and was eager to see him performing again along internationally acclaimed artists, such as violinist Ning Feng who is collaborating with HPO in its European tour.
The Athens Concert Hall has hosted many Chinese artists in recent years, as Greeks show increasing interest to get acquainted with Chinese culture.
"We have hosted several very interesting performances... We are making an effort which started before the year of Greece-China Year of Cultural Exchanges, so we were ready and absolutely positive for HPO," Apostolopoulos said.
Christos Nikologiannis, with a background in telecommunications, is a frequent visitor at the Athens Concert Hall. He had never seen Chinese artists performing before Monday evening, but was impressed by the videos he discovered on the internet of Ning Feng playing violin.
"Whenever great orchestras perform at the concert hall, we are here. We are fans," he said. "Such exchanges can bring people closer so that we get to know other cultures," Nikologiannis said.
The Hangzhou Philharmonic Orchestra will perform on Wednesday at the city port of Thessaloniki in northern Greece and then will continue its tour until April 29, 2018 in Bulgaria, Romania, Serbia and Hungary.