Chinese new year takes center stage in LA
Hao Nan

0 Comment(s)Print E-mail China Daily, 02 27, 2018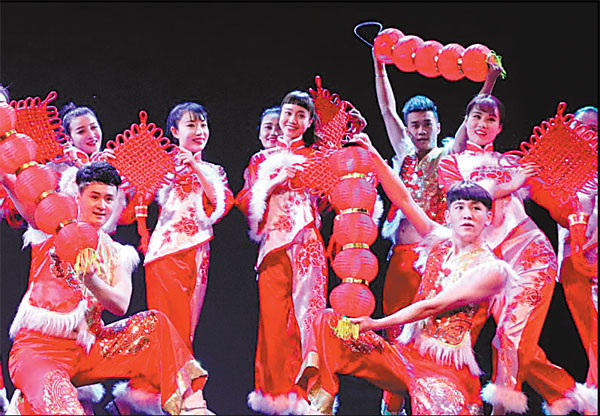 Dancers from Beijing stage a performance in celebration of Chinese New Year in Helsinki, capital of Finland, on Feb 14. Provided to China Daily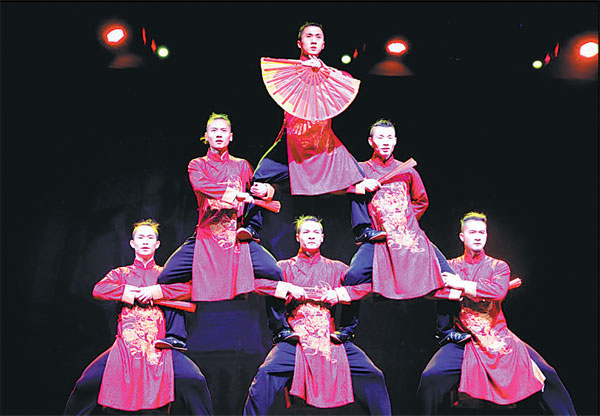 Acrobats dazzle with their stunts, a highlight of the Spring Festival show in Helsinki in mid-February. Provided to China Daily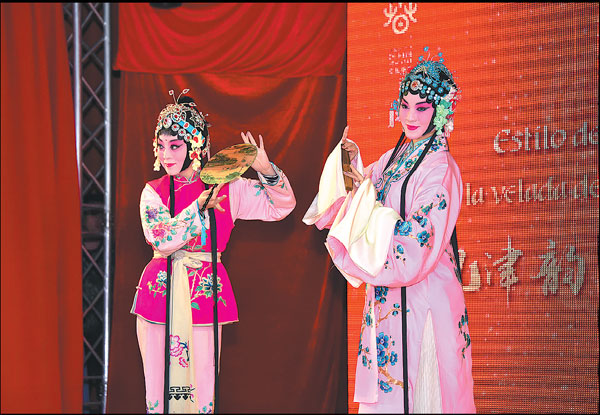 Actresses perform Kunqu Opera, one of the oldest forms of Chinese opera, in Costa Rica on Feb 13. Provided to China Daily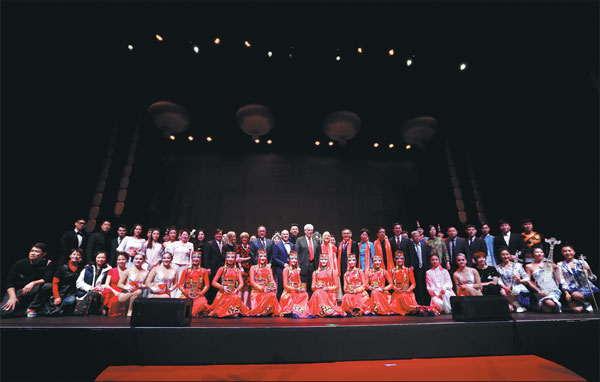 The Spring Festival show cast from Beijing, Tianjin and Hebei province pose for a photo with some members of the audience after the performance in Beverly Hills, California on Feb 10. Wang Peng / For China Daily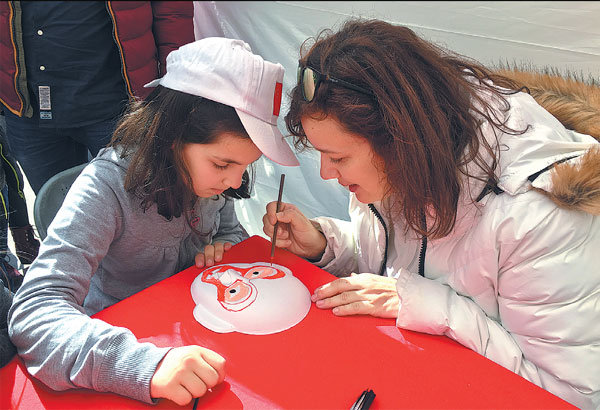 Athens residents learn to paint a Peking Opera mask during a Chinese cultural heritage exhibition in the capital of Greece earlier this month. Provided to China Daily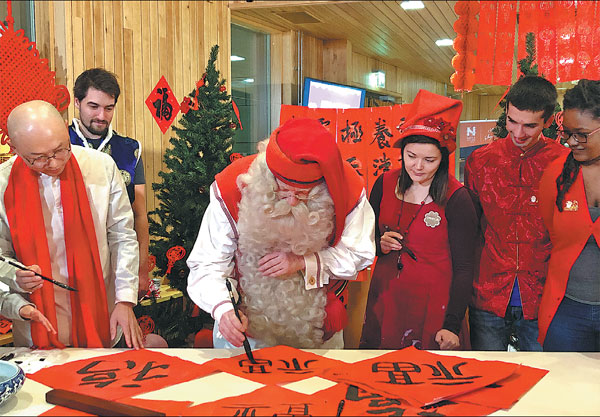 "Santa Claus" shows off his new Chinese calligraphy skills at a cultural exhibition in Rovaniemi, Finland on Feb 9. Provided to China Daily
Beijing, Hebei and Tianjin perform together for the first time in US showcase, Hao Nan reports.
For the past three years performers from Beijing have wowed audiences in the United States during Chinese Lunar New Year with a series of dazzling celebrations.
The organizers pushed the boat out this year, adding performers from the Chinese capital's neighboring Hebei province and Tianjin municipality, for a Spring Festival show in the affluent Californian city of Beverly Hills on Feb 10.
The "Charming Beijing, Tianjin and Hebei" variety performance, supported by the Chinese Consulate of Los Angeles, showcased traditional Chinese culture from the three major areas of northern China.
The gala evening was held by the Beverly Hills Conference and Visitors Bureau at the Saban Theater and organized by the China International Culture Association and the Beijing, Tianjin and Hebei information offices.
Among the 1,000 guests in attendance at the opening ceremony were Chinese Consul General in Los Angeles Zhang Ping, Beverly Hills Mayor Lili Bosse and Vice-Mayor Julian Gold, as well as three city council members.
The show has become one of the most eye-catching Chinese New Year celebrations in Los Angeles, Zhang said.
"This year's performance is more diversified as it was the first time for Beijing, Tianjin and Hebei to host the annual event, which is expected to play a more vital role in enhancing mutual understanding and friendship between China and the US in the future," he added.
Bosse said Beverly Hills welcomed the Beijing, Tianjin and Hebei art troupes and hoped to deepen cooperation with the Chinese organizers.
The show included a performance combining guqin, a seven-stringed zither, as well as tai chi and flower arrangements. Similar presentations were also held in Beijing at the Belt and Road Forum for International Cooperation in May 2017.
The Girls Crystal Band played two famous Chinese and foreign songs in their unique way, using pipa, a four-stringed instrument, erhu, a two-stringed bowed instrument, violin, guitar and other crystal-made musical instruments.
The US audiences were also impressed by the harmonious 600-year-old Kunqu Opera, athletic Hebei acrobatics as well as Tianjin folk music and traditional dance.
Stephen Lam, mayor of Los Angeles suburb Monterey Park, attended the gala evening for the second time. Lam spoke of his deep affection for Beijing having lived and worked there for a year. He hoped to have more chances to strengthen cultural and educational exchanges with Beijing and expected the activity to be hosted in Monterey Park in the future.
The mayor was not alone in his praise of the event, with audiences growing in appreciation as well as numbers in every year the event has been held.
Accompanying the opening ceremony, pictures and handicrafts were exhibited centering on Spring Festival culture and folk customs as well as the latest economic and social development in Beijing, Tianjin and Hebei.
The handicrafts exhibition showcased paper-cutting, Chinese calligraphy and Tianjin Yangliuqing woodblock-printed New Year paintings.
The "Charming Beijing, Tianjin and Hebei" variety show forms a major part of the grander "Happy Chinese New Year" series of events.
The Ministry of Culture has hosted Spring Festival-themed activities overseas since 2001 to promote China's rich cultural heritage around the world. In 2009, the series was named "Happy Chinese New Year" in the hope that Spring Festival would connect with people worldwide.
This year, in addition to the US, other performers from Beijing were joined by cultural groups to recreate the joy of Spring Festival to people in nine countries and regions, including Poland, Greece and Denmark.
In the Greek capital of Athens, audiences were treated to a feast of Beijing culture and art in the forms of dancing, musical performances and acrobatics on Feb 10.
The celebration began with a lion dance and was followed by traditional acrobatic feats, performances of folk music and Peking Opera. The festivities were accompanied by the promotion of Chinese cultural heritage, books and videos.
At a Chinese calligraphy display, visitors lined up to receive their own personalized Spring Festival couplets. Sugar paintings and Peking Opera masks were also crafted on the spot, attracting a lot of interest from the locals.
In Denmark's capital Copenhagen, Beijing art troupes staged an exciting show at a conference center on Feb 8. The New Year celebration attracted more than 200 people, who enjoyed festive Chinese music and dance, classic Peking Opera, a dazzling display of acrobatics and martial arts, as well as cultural performances.
In Helsinki, capital of Finland and Tallinn, capital of Estonia, a weeklong celebration launched by the Beijing government earlier this month featured a forum on technology and economy, attracting representatives of more than 200 companies from North Europe.
The forum centered on artificial intelligence, energy saving and environmental protection, healthcare services and the Winter Olympics, encouraging cooperation in research and development and business between Beijing and regions in northern and central Europe.
In Poland, young performers from the Beijing Dancing Academy showcased a number of Chinese dance routines at Warsaw National Theater on Jan 29, combining profound traditional Chinese culture and the charm of modern Chinese art.
The two-part show consisted of the academy's modern dance works in cooperation with international groups, which have won many awards in recent years, and a series of classic Chinese dances.
Contact the writer at haonan@chinadaily.com.cn