Keynote Speech by H.E. Ambassador Liu Xiaoming at the Standard Chartered Summit: Advance China-UK Belt and Road Cooperation for Common Development and Prosperity of Mankind
0 Comment(s)Print E-mail Chinadaily.com.cn, 02 24, 2018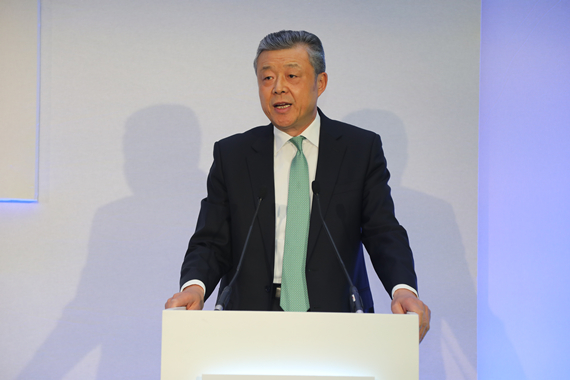 Chinese Ambassador to Britain Liu Xiaoming speaks at the Standard Chartered Summit. [Photo provided to chinadaily.com.cn]
Chief Economist David Mann,
Mr. Parag Khanna,
Ladies and Gentlemen,
It is a real delight to join you at the Standard Chartered Summit.
Today is the seventh day of the Chinese New Year. According to Chinese mythology, this is the birthday of human and is celebrated as the "Human Victory Festival". This festival embodies our best wishes for happiness and peace, and the respect for our own hard efforts.
I was asked by the Summit organizer to talk about China-UK financial cooperation in the context of the Belt and Road Initiative. In my view, there is no better day to talk about this subject because the Belt and Road Initiative reflects exactly people's aspiration for peace, tranquility and a beautiful life. It also embodies the hard efforts of all countries for common development and prosperity.
Cooperation under the framework of the Belt and Road Initiative creates win-win opportunities and offers great potential. China, the UK and all the countries willing to take advantage of this Initiative can engage in extensive consultation, work on projects together and share the benefits. Together, we can make this Initiative a joint endeavour that contributes to building a community with a shared future for mankind.
The Belt and Road Initiative was first proposed by President Xi four years ago in 2013. Since then, we have seen this Initiative gradually translated from a concept into actions, and from aspirations into reality.
It has been a remarkable success.
It is welcomed by an increasing number of countries.
It has been a contribution to world economic growth.
This is because the Belt and Road Initiative provides four major platforms.
First, it is a platform for win-win results.
The Belt and Road Initiative has been written into important resolutions of the UN General Assembly and the UN Security Council. Over 100 countries and international organizations have voiced their support and interest in participating in this Initiative, and over 80 countries and international organizations have signed cooperation agreements with China.
In May last year, the Belt and Road Forum for International Cooperation was successfully held in Beijing. At this Forum, participants from over 130 countries and over 70 international organizations shared their ideas on the Belt and Road development. A total of over 270 cooperation agreements were signed.
Such enthusiasm shows that this Initiative is bringing countries together in a joint endeavour to achieve development through cooperation and deliver inclusive economic globalization.
Second, the Belt and Road Initiative is a platform for open cooperation.
From 2014 to 2017, there has been a trade and investment boom along the Belt and Road.
Trade between China and countries along the routes exceeded $4 trillion.
Chinese investment in these countries topped $60 billion.
There has also been a rich variety of financial cooperation between China and participating countries and organizations.
As of the end of 2017, the Asian Infrastructure Investment Bank (AIIB) had approved over $3.7 billion in financing for over 20 projects.
The Silk Road Fund had signed agreements on 17 projects, pledging $7 billion in investment.
These newly-established financial bodies effectively filled the gaps left by traditional financial institutions such as the World Bank. The new and old together can form a financial network that funds different needs at different levels and in different fields of the Belt and Road cooperation.
Third, the Belt and Road Initiative is a platform for mutual learning between different civilizations.
This Initiative carries on the ancient Silk Road spirit. It embodies the Oriental wisdom of inclusiveness and "harmony without uniformity". It is meant to cover an area that includes but is not limited to the ancient Silk Road.
This Initiative calls for cultural and people-to-people cooperation on multiple levels and in a wide range of areas. It encourages exchanges and cooperation in education, science and technology, culture, health, tourism and sports.
As of the end of 2017, there were 734 pairs of sister cities between China and 53 countries along the routes. Moreover, mutual visa exemption or visa-on-arrival arrangements were agreed between China and 20 countries along the routes.
When the Chinese people and people from other countries come together to work on the Belt and Road, the exchanges between them and their mutual understanding will deepen.
Fourth, the Belt and Road Initiative is a platform for joint decision making.
This Initiative has produced fruitful results over the past four years, because it represents the trend of the times and serves the people's interests. Such an Initiative will have broad prospects.
Here I want to emphasize that the Belt and Road Initiative is open, transparent and inclusive. It upholds the principles of extensive consultation, joint contribution and shared benefits. And it follows the market and international rules.
Through the Belt and Road cooperation, China is willing to share our development experience and growth benefits with other countries. But China will never interfere in other countries' internal affairs, or export our social system and development model.
In other words, China never intends to displace or exclude anyone.
What we want is China and the world developing together.
We hope to build a road of peace, prosperity, opening up and innovation, and a road that connects different civilizations.
And we hope to build a community with a shared future for mankind.