China, France will "make our planet great again"
0 Comment(s)Print E-mail Xinhua, 01 11, 2018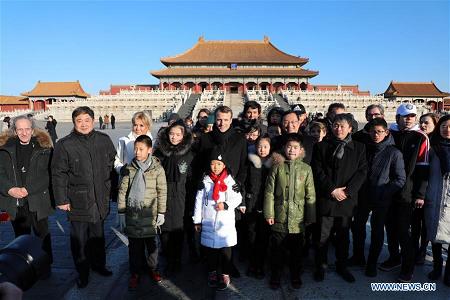 French President Emmanuel Macron and his wife Brigitte Macron visit the Palace Museum, or the Forbidden City, in Beijing, capital of China, Jan. 9, 2018. The French president is paying a state visit to China from Monday to Wednesday. (Xinhua/Zhou Gaoliang)
BRUSSELS, Jan. 10 (Xinhua) -- Upon concluding his successful visit to China, a short video showing French President Emmanuel Macron learning Mandarin endeared him to the Chinese people and demonstrated in full detail of what said he would bring to China in building a new relationship.
Determination and humility, the words he said in an interview ahead of the visit, were widely perceived by the Chinese people, not least in the video of his grappling with the Mandarin pronunciation of "make the planet great again" -- a tongue-in-cheek jab at U.S. President Donald Trump's "Make America Great" campaign slogan.
Macron was humble to try the guest's language and determined to properly execute Mandarin's difficult tones. And he succeeded.
During a tour of the Forbidden City in Beijing, he also made clear his open-mindedness: "We are here too with a lot of humility and curiosity. Humility, because you can't pretend to have it figured out in such a short amount of time. This visit allows us to pick up a little bit of the place and the depth of Chinese civilization."
The attitude, a stark contrast with the arrogance and condescendence that are sometimes seen in Western power's diplomacy, was one of the crucial factors to nurturing trust and friendship in China.
Being the first European Union member state leader to visit China since the 19th National Congress of the Communist Party of China, which ushered in a new era for the Chinese people, and against a background of uncertainties in Germany and Brexit, Macron's diplomacy set a fine example for his European colleagues, not only in style but also in content.
He said France would like to take an active part in the Belt and Road Initiative, echoing China's key proposal to seek common prosperity in the international community.
Macron also pledged to work with China to address common challenges of the international community, championing globalization and multilateralism -- when it's most needed. Populism and nationalism with a strong protectionist flavor is not a solution to the problems that the world -- including Europe -- is facing.
An open global economy with a level playing field and an economic globalization process that is more transparent, inclusive and balanced brings benefits to all. The liberalization and facilitation of trade and investment should be, as China and France did, reaffirmed.
France, a permanent member of the United Nations Security Council, is seen by China as a country of importance; one with which it is able to coordinate with on major international issues in the hope of promoting world stability and prosperity.
Neither a global policeman nor a global leadership vacuum is desired when there are so many global challenges.
And of course there is the issue of climate change, where China and France vow to stay the course. Macron, who is a well-known advocate for the environment, will find a stable partner in China, which has been cleaning up its own environment at an unprecedented scale.
Together, the two countries can help "make our planet great again."