Stanley Loh: Belt and Road will be the new highlight for cooperation between Singapore and China
Mengya Liu, Ruixue Sun

0 Comment(s)Print E-mail China.org.cn, 12 13, 2017
Singapore is an important partner for the Belt and Road Initiative. During an exclusive interview with China.org.cn, Singapore's Ambassador to China, Mr. Stanley Loh, talked about the opportunities offered by the initiative to Singapore's economic and social development, and cooperation between China and Singapore.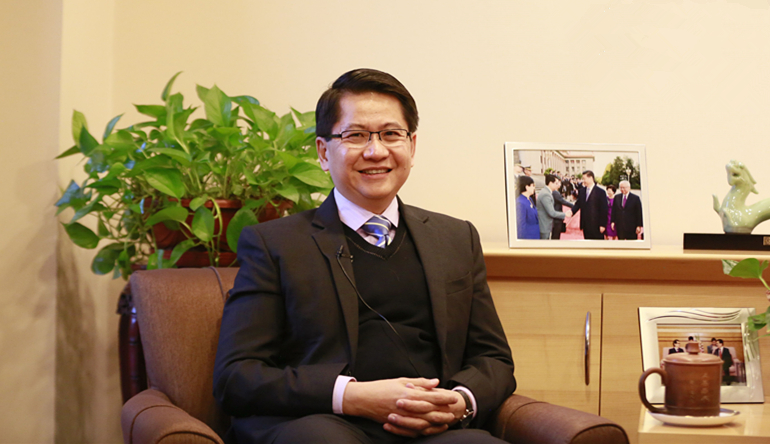 Singapore's Ambassador to China,Stanley Loh. (Photo/ Donghai Wang)

China.org.cn: Good day Mr. Ambassador, thank you so much for granting us this interview.
We know that China and Singapore enjoy traditional friendship and fruitful outcomes from cooperation. From your perspective, what is Singapore's special role within the framework of the initiative?
Stanley Loh: The Belt and Road Initiative is a very creative and very bold initiative. Singapore was the first ASEAN country to publicly express its support for the initiative. We were also the first developed economy to sign on to the Asian Infrastructure Investment Bank.
I think Singapore plays a very unique role in the Belt and Road Initiative. I saw some statistics from the Ministry of Commerce. Last year, the country that received the most investment from China among the Belt and Road countries was Singapore. We had about one third of all of China's investments in the Belt and Road countries. From the Belt and Road countries investing into China, Singapore contributed 85 percent. I was quite surprised with the first figure. Why was Singapore the destination of one third of the investments? My conclusion – that it is because Singapore provides the service platform to Belt and Road projects, especially in the financial service sector. Singapore is the regional financial hub. A lot of foreign companies wanting to invest in Belt and Road projects come to Singapore to set up companies, issue bonds, make loans or combine the funds of other companies before they invest in the projects in the relevant countries. Companies like to use a financial hub as a base and I think this is why we've been playing this role.
Moving forward, our top national leaders have decided that the Belt and Road Initiative will be a major new highlight for cooperation between Singapore and China. We are going to build three specific platforms to support this initiative.
The first is in infrastructure connectivity. Under infrastructure connectivity, we have initiated the China-Singapore (Chongqing) connectivity initiatives.
The second platform is on financial connectivity, an area I just mentioned. But we want to provide even stronger and better support to the companies investing in the Belt and Road projects. I think this is very important. We want to provide even stronger services for all these projects in helping to package and manage them.
The third area is in third party cooperation. Singapore and China have a very strong track record of bilateral cooperation in Suzhou Industrial Park, Sino-Singapore Tianjin Eco-city, and Guangzhou Knowledge City. So we can explore working with China to invest in such projects in other Belt and Road countries.
Another dimension of third party cooperation is in training. So we can consider Singapore and China again jointly providing training to other Belt and Road countries. Our existing projects in Suzhou, Tianjin and Chongqing can be used as training venues. Not just training in the classroom but actually going out into the field to inspect and to see the outcomes of such bilateral cooperation.
China.org.cn: As you just mentioned, the Sino-Singapore (Chongqing) strategic interconnection and interworking demonstration project was planned as a nodal point for the Belt and Road Initiative. What are the latest developments in the project, and what is the significance of successfully implementing the project?
Stanley Loh: Singapore considers a third project to support the development of China's western region. So after studying the situation in China's western region, we decided that we should not develop another industry park or Eco-city. We should develop a project based on connectivity because the western regions are a little bit further away from the coastal area and connectivity might be a bit more challenging. Logistics costs are also higher. So we have based the project in Chongqing and it focuses on four areas: financial connectivity, civil aviation, modern logistics and infocom technology.
I think financial connectivity is progressing very well. We have launched a test pilot where companies in Chongqing can issue bonds or borrow from any banks in Singapore. They can bring back 100 percent of the proceeds to invest in China. This has brought down the cost of funds very significantly.
Aviation has also done well. We have launched more flights between Singapore and Chongqing. They used to be three times a week; now they are fourteen times week. We have also launched a flight from Singapore - Chongqing to Urumqi.
And we are exploring more such connections. We are also participating in the ground-handling commercial operations of Chongqing airport terminal three, which just opened in August. We are really starting to cooperate in the development of the shops and the restaurants there. That project is also making progress.
The area in I think we have the greatest impact is the southern transport corridor. Chongqing is an important node in the western region of China and it is one of the starting points of the New Silk Road economic belt. Its cargo comes traditionally from the Yangtze River and the Chongqing–Xinjiang–Europe International Railway
. What we want to do is to increase the sources of goods to the western region by building a network down south from Chongqing through Guangxi to Singapore. We have also worked in the neighboring provinces of Gansu and Guizhou; together with Guangxi and Chongqing, pulling together the cargo because the objectives of government to government projects is not just to develop one project or to help one province. It is for the project to have a model effect and to have a greater effect on the whole region. So we want to involve more provinces from western China.

Through this project, another strategic objective that we want to achieve is to link up the New Silk Road Economic Belt and the 21st Century Maritime Silk Road. If we can link them up, I think one plus one will be more than two.
China.org.cn: In order to successfully implement the Belt and Road Initiative we need a friendly global environment, right? With a trend of anti-globalization around the world, as the ambassador to China, how do you see China' s role in the changing global scenario, particularly in advancing free trade and globalization?
Stanley Loh: Singapore was the first country to launch bilateral FTA with China, and the first Asian country to conclude it. We are now upgrading it because we want to make sure it progresses with the times, we have conducted four rounds of talks already. We should step up our efforts to conclude the upgrade expeditiously.
We have also concluded an upgraded version of the China-ASEAN Free Trade Agreement. But some of the countries have not completed their internal ratification processes.
So I think we must press on. We should work towards the coming into force of the upgraded agreement soon. At the regional level both China and Singapore are part of the Regional Comprehensive Economic Partnership (RCEP). It is a broad initiative involving more than 30 percent of the global economy. We should press on to have this concluded as soon as possible. The RCEP can be one of the pathways towards a much larger free trade agreement for the Asia pacific or the FTAAP.
I think China has contributed too, when you chaired APEC in 2014 and launched the feasibility study on an FTAAP. So I think if you can accomplish these tasks, we would actually be taking concrete action to show the world that we are serious in wanting to maintain openness for the liberalized economies cooperation, and we want to bring substantive benefits to our economies and to our people.
China.org.cn: As we know the Chinese government and other stakeholders are concentrating on alleviating poverty. Over the past 30 years China has lifted almost 800 million people above the poverty line. What are your comments on that? And what kind of experiences can other countries probably learn from China's successful poverty reduction practices?
Stanley Loh: Well, I think it is very remarkable what China has achieved over the last 30~40 years in terms of poverty alleviation. I know that China is just a little bit short of its first centennial goal, to totally eradicate absolute property. I have every confidence that China will achieve this; probably a little before the deadline of 2020. But I think beyond China's own experience, in the world you still see poverty in other parts. There is a lot China can share with the rest of the world on your experience and what you have done. It is not only about economic development, it is also about how to educate the different segments of the population and reduce the disparity in incomes. So there is a lot that you can share and a lot to be learned.
I just want to add one more point. I think for Singapore and China, another area where we can cooperate on in the future was touched upon by President Xi Jinping in his 19th Party Congress report, which is that we can share experiences on how we meet the growing desire of our peoples for a better quality life.
This is the new challenge for China. It is also a challenge for Singapore. In the past, the focus was on meeting needs. These have largely been satisfied. But the aspirations of our people for the best quality life are much harder to meet. Because every time we achieve a target, new aspirations will emerge. There is a lot we can learn from each other in this aspect.
China.org.cn: Last but not least, China.org.cn is launching its Belt and Road Initiative website. We would be very much honored if you could say a few words in support of the website.
Stanley Loh: I think China.org.cn Belt and Road website is a very important step in enhancing information connectivity. It will support greater connectivity of goods, people and money. Ultimately, the goal is to achieve a true Silk Road spirit. China.org.cn can play a big role in that.