UN welcomes role of Belt and Road initiative in Africa's integration
0 Comment(s)Print E-mail Xinhua, 07 06, 2017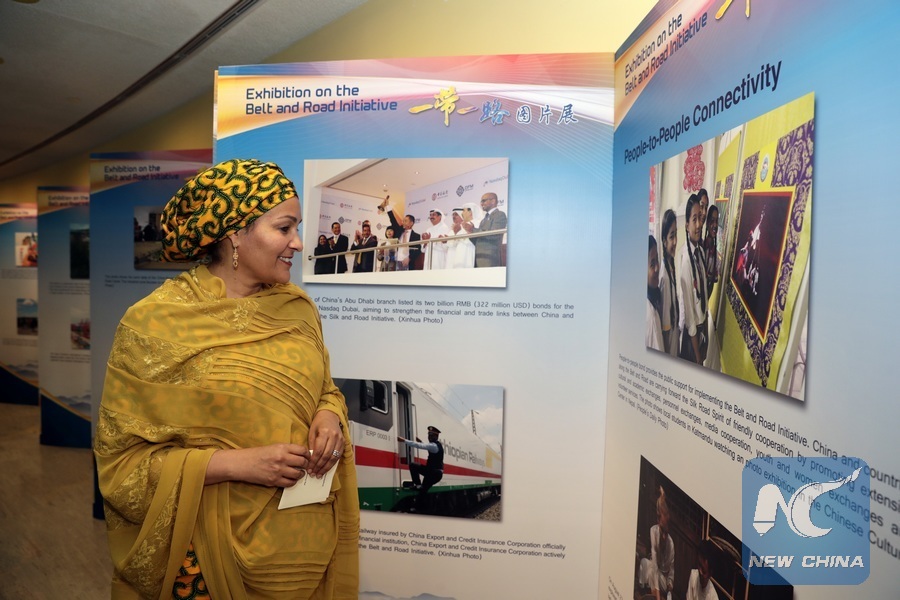 Amina Mohammed, United Nations deputy secretary-general, looks at photos during a photo exhibition on China's Belt and Road Initiative at the UN headquarters in New York May 8, 2017. The week-long photo exhibition was opened on Monday. (Xinhua/Li Muzi) (zy) (Xinhua/Li Muzi)
ADDIS ABABA, July 4 (Xinhua) -- The United Nations encourages the engagement of the Chinese-proposed Belt and Road Initiative with Africa's efforts to drive integration, a senior official said on Monday.
"We must work to take advantage of one of the world's largest infrastructure initiatives, the Chinese-proposed Belt and Road initiative," said UN Deputy Secretary-General Amina Mohammed at the opening ceremony of the 29th African Union (AU) Summit which opened on Monday.
She said that the initiative calls for global partners to scale up investments in Africa's infrastructure for regional economic integration.
Noting that the African continent, through the pan African block, is working to end violence and embark on economic integration through its flagship Silencing the Guns and the Continental Free Trade Area (CFTA) initiatives, the deputy secretary-general also called on the continent to utilize the Belt and Road initiative for the betterment of the continent.
"This is an opportunity not just to provide alternatives to silencing the guns for our people, but one that will keep our human and natural assets on the continent by building our tomorrow today," she said.
Proposed in 2013, the Belt and Road Initiative is a grand plan to connect Asia with Europe and Africa along, and beyond, ancient trade routes by putting in place an unparalleled trade and infrastructure network.
Referring to the AU's Continental Free Trade Area (CFTA) that envisages to expand the scale of intra-Africa trade through better harmonization and coordination of trade liberalization and facilitation, Amina also expressed the UN's continued support to Africa's integration motive.
She said the UN has already provided technical support to Africa's integration plan through mapping the intra-Africa trade and by analyzing regulatory frameworks for the effective implementation of the plan.