Economic Watch: China strives to maintain stability of global supply chain amid epidemic
0 Comment(s)Print E-mail Xinhua, 03 11, 2020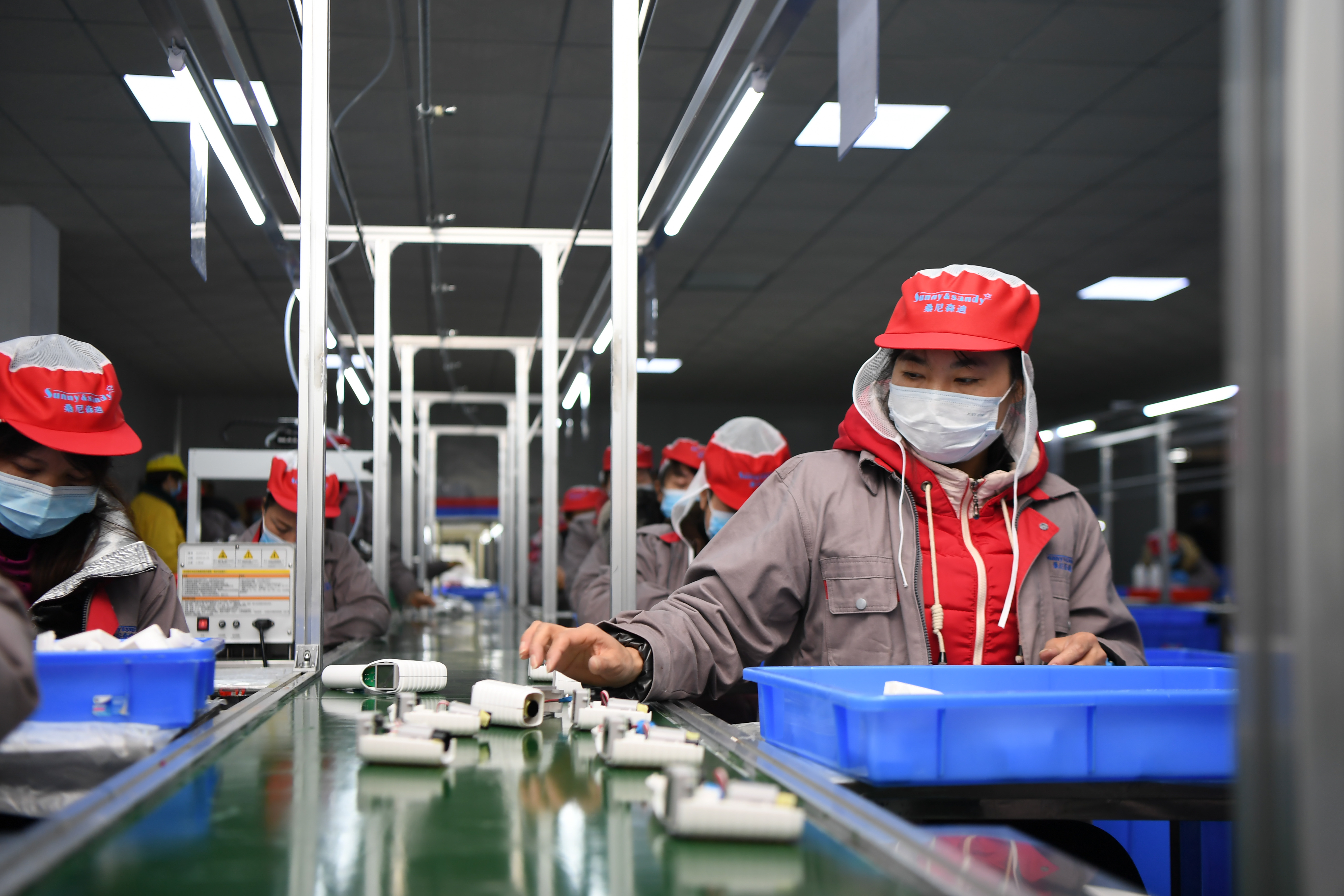 People work at a factory of a toy-making company in Xiangtan, central China's Hunan Province, March 6, 2020. (Xinhua/Xue Yuge)
BEIJING, March 10 (Xinhua) -- China, the "World's Factory," is striking a balance between epidemic prevention and work resumption to maintain the stability of the global supply chain and minimize the impact of the epidemic on the global economy.
China has all the industrial categories classified by the United Nations. It also ranks first in terms of output in nearly half of the over 500 major industrial products in the world. Though the novel coronavirus outbreak has slowed the humming of the factories for a while, production has been resuming across the country as the outbreak is leveling off to ensure the smooth operation of the global supply chain.
A large diameter shield machine is being disassembled in a workshop of Changsha No. 1 industrial park of the China Railway Construction Heavy Industry Corporation. The 2,300-tonne shield machine, which will soon be exported to India to participate in the construction of a road tunnel in Mumbai, will be India's largest diameter shield machine.
As China's leading roadheader manufacturer, China Railway Construction Heavy Industry Group's products have been used in more than 30 countries and regions. Last year, the amount of new overseas contracts it received rose three times from a year ago.
"We have been gradually resuming work and production since Feb. 10 and give priority to overseas projects and emergency projects," said Sun Qiang, deputy general manager of the company's roadheader factory.
On the first day of production this year, a Turkish order for a shield machine was packed and shipped. Sun said they have full orders for shield machines for the coming months.
Production lines at the factories of the Shenghong Petrochemical Group in Jiangsu Province are also running at full tilt amid the epidemic.
"We can guarantee the supply of nearly 2,000 domestic and foreign enterprises downstream," said Xiao Qipeng, a company engineer.
The company manufactures products for enterprises in many industries such as automobiles, household appliances, textiles, photovoltaic, rubber, plates and medical treatment, among others. They are sold to countries and regions including the Republic of Korea, Europe and the United States.
The Chinese government is strengthening guidance and supportive policies, giving priority to ensuring that leading and supporting enterprises that have an important influence in the global supply chain resume work and production.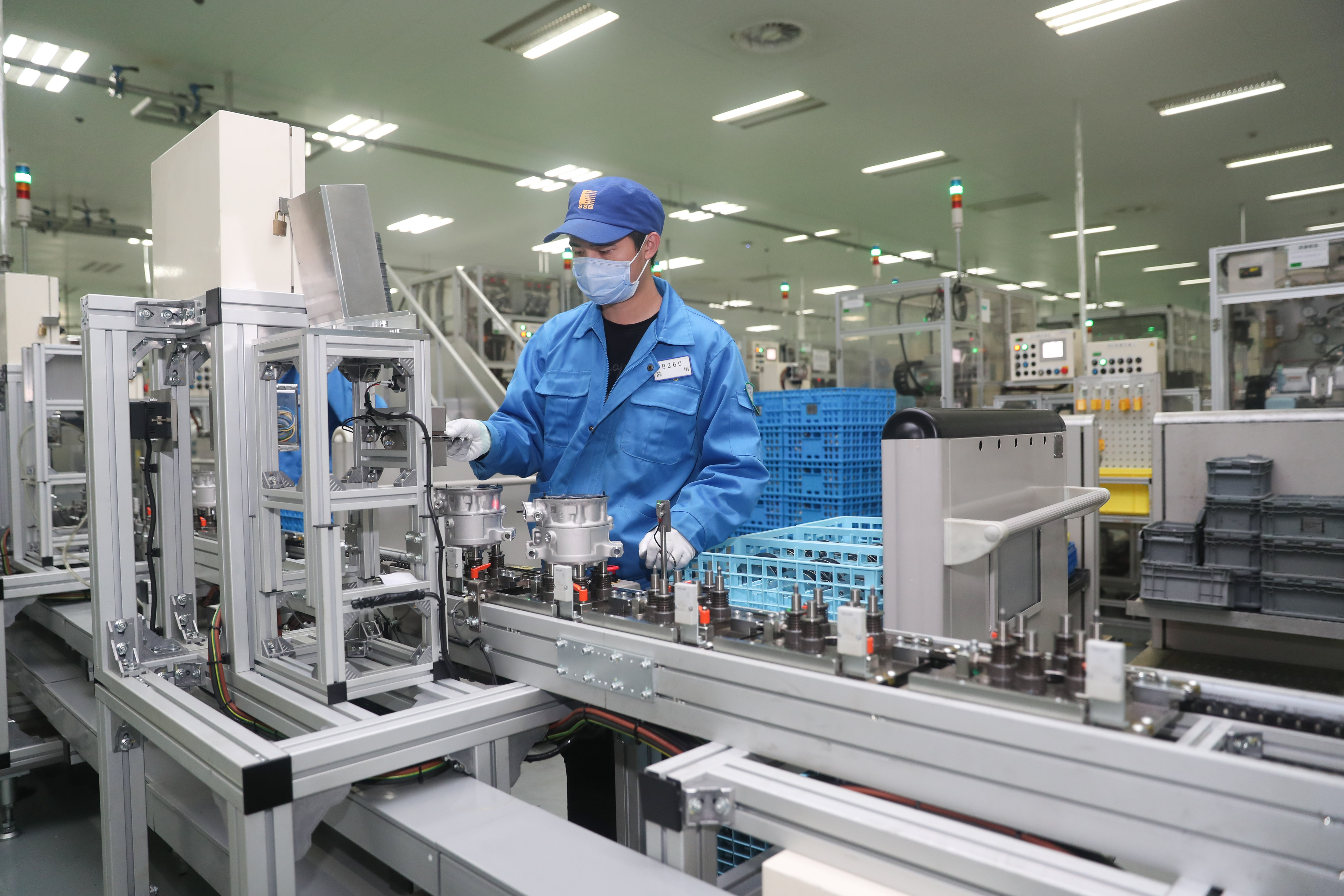 A staff member works at a workshop of Sanden Huayu Automotive Air-Conditioning Co., Ltd. in Shanghai, east China, Feb. 27, 2020. (Xinhua/Ding Ting)
In Shanghai, China's financial center, the local government has increased support for key foreign-funded enterprises amid the epidemic. Almost all of the 840 key foreign-funded enterprises had resumed work as of late February.
Meanwhile, southern China's manufacturing heartland Guangdong Province has seen 91.2 percent of firms resume operation as of March 3, and construction of major foreign-funded projects such as the BASF smart Verbund project -- the German chemical giant's largest-ever investment project in China -- has resumed.
Data from China's Ministry of Commerce showed that in January, a total of 3,485 new foreign-invested enterprises were established nationwide, with foreign direct investment into the Chinese mainland seeing a steady growth of 4 percent year on year to 87.57 billion yuan (about 12.6 billion U.S. dollars).
"The impact of the epidemic on enterprises is only temporary, and we are confident to make up for the delay in production," said Zheng Qi, vice-general manager of Airbus Tianjin Assembly Co., Ltd.
The China-Europe trains and cargo flight routes are also gradually resuming operation to facilitate international trade and supply. Analysts pointed out that the resilience and indispensability of China's supply chain have been highlighted under the epidemic situation.
China still maintains a top investment hotspot for multinational enterprises. A report on the impact of the novel coronavirus epidemic released by the American Chamber of Commerce in South China showed that 75 percent of enterprises are confident in China's economic prospects and will not change their reinvestment plans.