Ambassador of Montenegro to China: Promoting B&R Cooperation through improving efficient communication
Li Chunli

0 Comment(s)Print E-mail China.org.cn/Chinagate.cn, 11 20, 2019
On November 12 , the 2019 Belt and Road International Forum and the Launching Ceremony of Belt and Road Traceable Commodity Data Base were held in Beijing. Darko Pajović, ambassador of Montenegro to China delivered a keynote speech at the forum, saying that Montenegro is willing to improve efficient communication, and share information to enhance cooperation through Belt and Road (B&R) Initiative and 17+1 cooperation mechanism.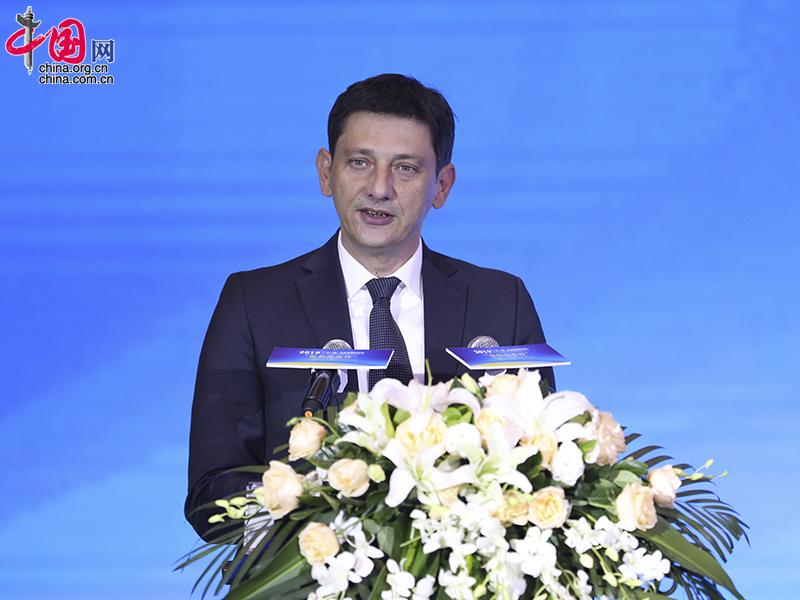 Darko Pajović, Ambassador of Montenegro to China delivers a speech at the 2019 Belt and Road International Forum.
"Montenegro is a country of 600,000 people, situated on the coast of the Adriatic Sea. We have created a multiethnic and democratic society; different religions and nationalities live together and share common values devoted to the development of our country. Montenegro has been devoted to the Belt and Road Initiative and 17+1 cooperation mechanism, respecting each other's interests and building the base for longstanding projects for further development and better connectivity with China in the CEE countries," Darko Pajovićsaid.
He said that Montenegro welcomes more direct investment from Chinese companies, especially green field projects which would result in employment for more people and create additional values to boost the economy.
"Montenegro adorns with political stability, good transport connections in road transport, sea, railways and air transport as well. Our tax rates are attractive and lowest in the region – only 9%. In this regard, Montenegro is very open to Chinese investors and we are looking forward to enhancing our cooperation through Belt and Road Initiative and 17+1 cooperation mechanism," the ambassador stressed.
The forum was co-hosted by Belt.china.org.cn, Belt and Road Initiative International Think Tank of Chinese Academy of Social Sciences, Embassy of the Republic of Maldives in China, International Relations Department of National Ethnic Affairs Commission of China, Jiangsu Normal University, the Belt and Road Research Institute of Beijing Normal University; supported by Investment Operations Department of Asian Infrastructure Investment Bank, China Enterprise Confederation, China Enterprise Directors Association, Jiangyin Chamber of Commerce in Beijing, and jointly organized by Chinagate.cn, Research and Development International, China Traceability (Beijing) Technology Co., Ltd. More than 200 guests, including the diplomatic envoys of 46 countries to China, government officials, and representatives of international organizations and Top 500 Chinese enterprises attended the forum to chart the future course for cooperation through discussion.