Senior legislators study Xi's speeches on reform and opening-up, economy
Mu Xuequan

0 Comment(s)Print E-mail Xinhua, 12 29, 2018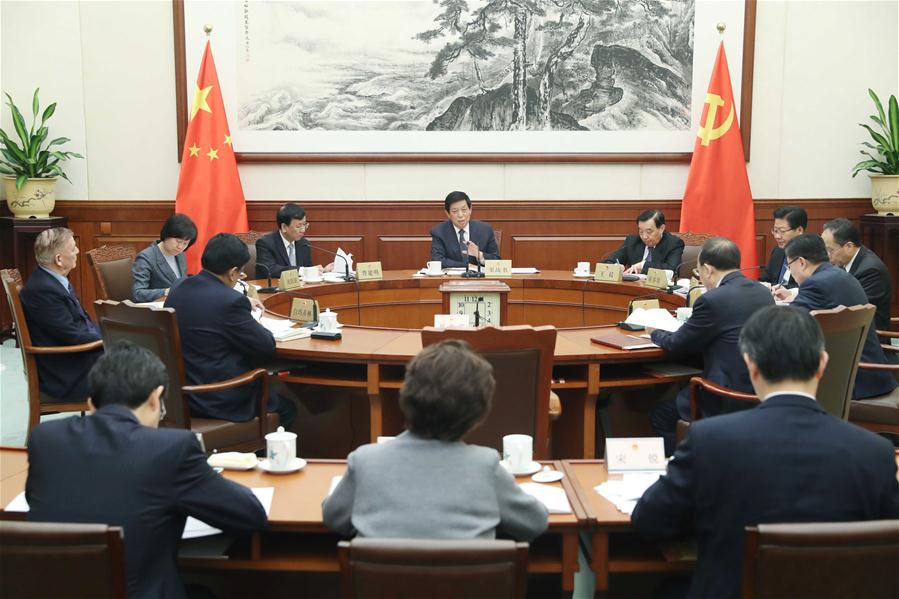 Li Zhanshu, a member of the Standing Committee of the Political Bureau of the Communist Party of China (CPC) Central Committee, chairman of the National People's Congress (NPC) Standing Committee and secretary of its leading Party members' group, presides over a meeting to study General Secretary of the CPC Central Committee Xi Jinping's recent speeches on the country's reform and opening-up and economy in Beijing, capital of China, Dec. 28, 2018. (Xinhua/Liu Weibing)
BEIJING, Dec. 28 (Xinhua) -- The Leading Party Members' Group of the National People's Congress (NPC) Standing Committee held a meeting Friday to study General Secretary of the Communist Party of China (CPC) Central Committee Xi Jinping's recent speeches on the country's reform and opening-up and economy.
Li Zhanshu, a member of the Standing Committee of the Political Bureau of the CPC Central Committee, chairman of the NPC Standing Committee and secretary of its leading Party members' group, presided over the meeting and delivered a speech.
Xi's speech at the grand gathering celebrating the 40th anniversary of China's reform and opening-up was a mobilization order and declaration for continuing reform and opening-up in the new era, said a statement issued after the meeting.
Lawmakers should carry out their duties in accordance with the law to make sure the CPC Central Committee's major decisions concerning reform and opening-up are effectively implemented.
They should strengthen their sense of responsibility and continue to improve the Chinese socialist system of laws, in order for the NPC to contribute to comprehensively deepening reform and furthering opening-up, according to the statement.
The statement also said that Xi's speech at the Central Economic Work Conference pointed out the direction and laid out the fundamental guidelines for the country's economic development for the next year and beyond, asking legislators to support and help with next year's major economic tasks, and provide the completion of the tasks with legal protection.