European tech companies eye Chinese opportunities
Li You

0 Comment(s)Print E-mail China Daily, 05 30, 2018
Chamber seeks to ease firms' entry into important market
High-tech enterprises from Europe planning to enter the Chinese market need to learn more about the local business environment, government policies and initiatives, according to Florian von Tucher, chairman of the European Technology Chamber.
"They (companies) should make themselves fit into the big picture of Chinese policies such as the Belt and Road Initiative and Made in China 2025 and adapt to local partners," von Tucher said.
Founded in 2008, the European Technology Chamber is aimed at helping European high-tech companies expand their international activities and achieve success in emerging markets.
"China, for European companies right now, is a very important market. China is just starting a golden age," von Tucher said.
However, some European companies are hesitant to enter the Chinese market due to a lack of knowledge about it.
"Every challenge of China can be an opportunity for Europe," said von Tucher, adding that the focus of the chamber is to interpret the current issues and challenges in China to a language that can be easily understood by European high-tech companies.
The fifth China Beijing International Fair for Trade in Services, being held at the China National Convention Center in the Chinese capital from Monday to Friday, is an event aimed at introducing the Chinese market to foreign companies.
The European Technology Chamber and CIFTIS have invited over 25 people from 13 of Europe's leading technology companies to attend the event sponsored by the Ministry of Commerce and the Beijing government.
At CIFTIS, the goal of the European Technology Chamber is to help communicate with potential customers and partners to explain detailed situations in the Chinese market, as well as provide project information to potential stakeholders.
"Our experts have analyzed the industry data and market information to help make the visit to CIFTIS a great opportunity for the companies exhibiting," von Tucher said.
"By 2050, the Chinese market will be bigger than the European market and American market combined," said von Tucher, adding that for European companies, it is the ideal place to start their business.
The European Technology Chamber cooperates with the companies from the sectors of sustainable urbanization, life sciences and industry 4.0 and focuses on cutting-edge fields such as environment, construction, energy, transportation, nutrition, healthcare, new materials and advanced products.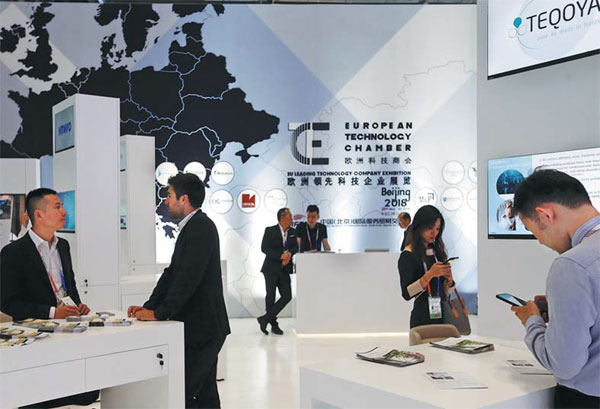 Representatives of the European Technology Chamber talk with visitors about exploring business opportunities at the ongoing China Beijing International Fair for Trade in Services. Wang Zhuangfei / China Daily