Belarus calls for joint investment with China at Silk Road forum
0 Comment(s)Print E-mail China.org.cn/Chinagate.cn, 03 29, 2018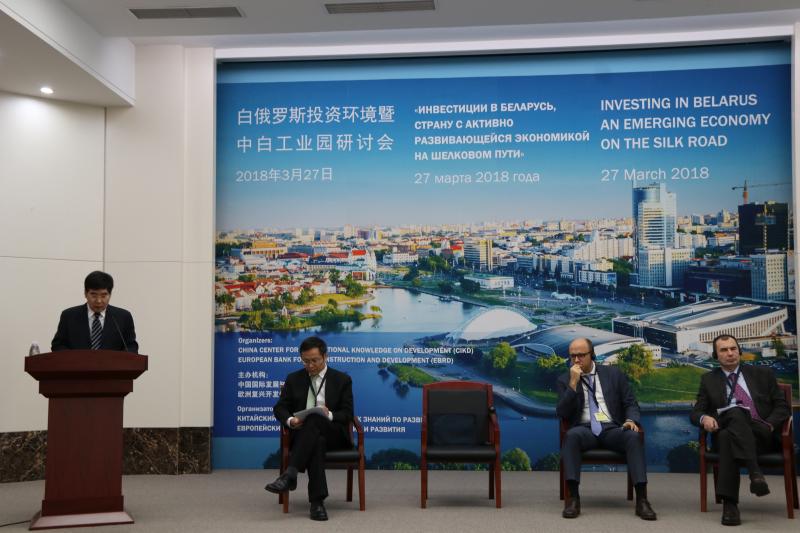 Kirill Rudy, the Belarusian ambassador to China called for joint ventures between the two countries at a Beijing forum Tuesday .
The event, dubbed "Investing in Belarus - an Emerging Economy on the Silk Road," looked at investment opportunities through the China-Belarus Great Stone Industrial Park, a special economic zone created in the Republic of Belarus in order to enhance win-win trade, economic and investment cooperation with China. It is the biggest economic and technological cooperation project between China and Belarus.
The forum was organized by the China Center for International Knowledge and Development (CIKD) and European Bank for Reconstruction and Development (EBRD), and was held at the Development Research Center of the State Council (DRC).
"The Park promotes the cooperation between China and Belarus," Zhang Junkuo, vice president of DRC said in his welcome speech. "It creates a platform for Chinese companies to invest abroad and accelerates upgrading of industrial structure in Belarus."
Alain Pilloux, vice president of EBRD, said that the bank would also support the park.
Alexander Yaroshenko, head of the administration of the Great Stone Industrial Park said that the park has provided a favorable investment climate for industrial park residents, unprecedented benefits in terms of tax and customs preferences and "one stop" service system.
"These favorable conditions will meet investors' needs and advance cooperation between China and Belarus," said Richard Jones, business development director of Asian Infrastructure Investment Bank and EBRD, EBRD .