China tech shines at SXSW
May Zhou

0 Comment(s)Print E-mail China Daily, 03 26, 2018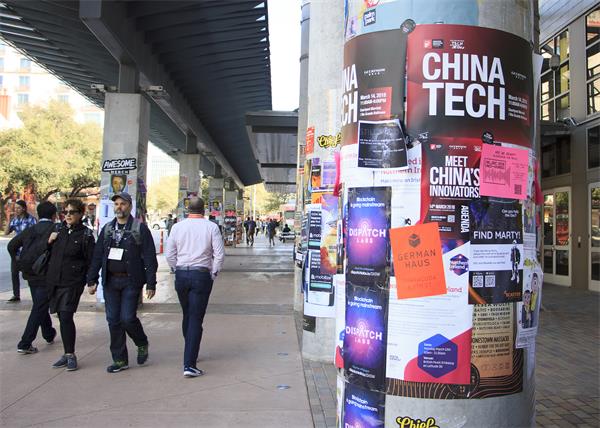 China tech makes a show at SXSW 2018 in Austin, Texas. [Photo/MAY ZHOU / CHINA DAILY]
A flying car certainly got some attention at SXSW 2018.
"It feels so futuristic," a member of the audience commented after Derrick Xiong, co-founder and chief marketing officer of Ehang, finishing presenting the company's latest development.
Ehang, a Guangzhou-based company specializing in automated flying, was founded in 2014 and has been developing passenger drones in earnest ever since. Dubbed an autonomous aerial vehicle (AAV), the Ehang 184 represents the company's most advanced technology.
"The traffic system we have right now is all 2-D and we have all been caught in traffic jams. The only way out is the sky, and Ehang 184 is the answer," said Xiong.
Ehang 184 is designed with fail-safe redundancy — eight propellers and four arms — to ensure safety, Xiong said. The company has extensively tested Ehang 184 in deserts, densely populated cities, in rain, in fog and in force 7 typhoons, more than 1,000 times.
Recently it completed more than 40 flight tests with passengers onboard.
"Vice-mayors of Guangzhou and Xi'an flew in an Ehang 184. Some of our investors flew in it. That's me in the drone," Xiong said pointed to the video playing on the screen.
The image of Xiong riding in the Ehang 184 was selected as one of the sharpest science images in February by Nature, along with pictures of the take-off and landing of Space X's Falcon Heavy rocket.
With a top speed of 130 kilometers/hour, Ehang 184's longest tested range is 8.8 km with a designed range of 30 km. The flying car is remotely controlled just like smaller drones and flies one person at a time.
Xiong said the biggest challenge the company faces is not technology or regulations but people's mindset.
"People fear for their safety. People don't feel comfortable flying in this," he said, adding that to allay those fears, all of the executives in the company will commute in an Ehang 184 every day.
"If you still find us alive in three years, you probably will feel much more comfortable," he said.