Hungarian magazine publishes special Chinese-language edition on Belt and Road
0 Comment(s)Print E-mail Xinhua, 11 23, 2017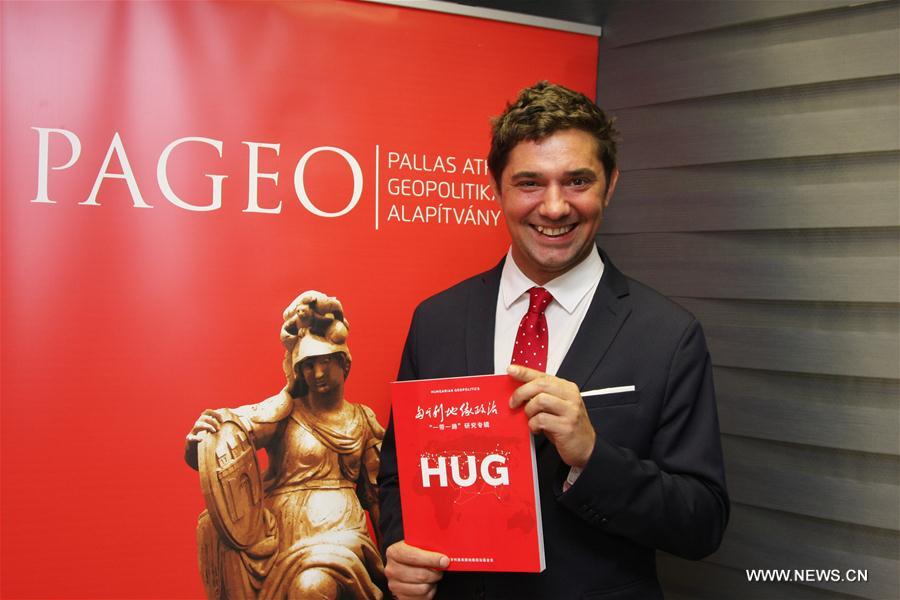 Norbert Csizmadia, editor-in-chief of Hungarian Geopolitics (HUG) and president of board of the Pallas Athene Geopolitical Foundation, shows a special Chinese-language edition of HUG during the launching ceremony in Budapest, Hungary, on Nov. 21, 2017. Hungarian Geopolitics (HUG), a major quarterly magazine covering geopolitical and geostrategic issues in Hungary, presented here on Tuesday a special edition in Chinese focusing on the Belt and Road initiative. (Xinhua/Yang Yongqian)
BUDAPEST, Nov. 21 (Xinhua) -- Hungarian Geopolitics (HUG), a major quarterly magazine covering geopolitical and geostrategic issues in Hungary, presented here on Tuesday a special edition in Chinese focusing on the Belt and Road initiative.
Hailing the initiative proposed by China in 2013 as a "significant geopolitical and infrastructural investment" of the 21st century, Norbert Csizmadia, editor-in-chief of HUG and president of board of the Pallas Athene Geopolitical Foundation, the magazine's publisher, said the Central and Eastern Europe is a region of key importance for the Belt and Road, as the networks spreading from China reach Europe in that region.
The Chinese-language issue of the HUG magazine presents the process of the creation of the Ancient Silk Road and its historical connection to today's extremely important economic and infrastructural project, the construction of the new Silk Road in which Hungary can play a significant role.
It also presents the Hungarian explorers of the Silk Road, the relationships between the Silk Road and folk music, and especially the relationship between Chinese and Hungarian Folk Music.
The edition also deals with the Belt and Road and its connectivity to Central and Eastern Europe and its development through cooperation, and also about why Hungary can be a key a player for the Belt and Road.