Chinese economy owes healthy growth to reforms, stable policy: Vice FM
0 Comment(s)Print E-mail Xinhua, 10 24, 2017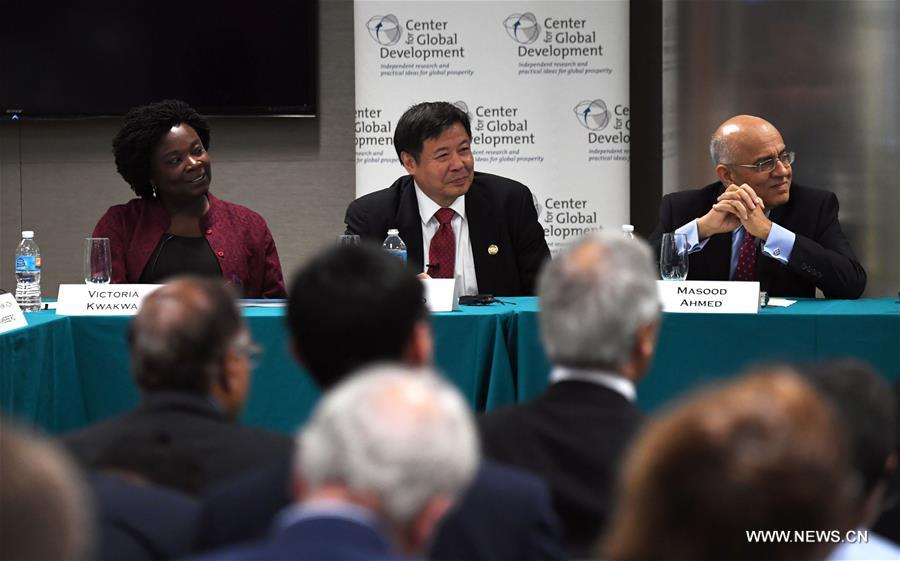 China's Vice Finance Minister Zhu Guangyao (C) attends a high-level seminar on the Belt and Road Initiative in Washington D.C., the United States, on Oct. 12, 2017. China's stable and healthy economic growth mainly stems from major progress in economic reform and the government's ability to maintain a stable macroeconomic policy, Chinese Vice Finance Minister Zhu Guangyao said Thursday.(Xinhua/Yin Bogu)
WASHINGTON, Oct. 13 (Xinhua) -- China's stable and healthy economic growth mainly stems from major progress in economic reform and the government's ability to maintain a stable macroeconomic policy, Chinese Vice Finance Minister Zhu Guangyao said Thursday.
Zhu, who is attending the International Monetary Fund (IMF) and World Bank's annual meetings here, said this during his discussions with IMF First Deputy Managing Director David Lipton.
The stable macroeconomic policy demonstrates China's steering capacity in economic development while promoting reforms and opening up, Zhu said.
The IMF on Tuesday raised its forecast for China's economic growth in 2017 and 2018 to 6.8 percent and 6.5 percent respectively, both 0.1 percentage point higher than the earlier forecast in July.
For an economy with a total volume of over 11 trillion U.S. dollars, maintaining such high growth is not easy, Zhu said. The upward revision is a "strong affirmation" of the Chinese government's achievements in supply-side structural reforms by the IMF, he said.
Despite the positive revision, the IMF has urged the Chinese authorities to intensify efforts to rein in credit expansion and strengthen financial resilience.
In that regard, Zhu said the IMF is encouraged that the Chinese government attaches importance to its policy suggestions. It also supports China to enact economic policies according to national conditions.
With the central government seeking to strictly control the debts of local governments and state-owned enterprises, the policy to prevent debt risk is yielding results, Zhu said.
The vice minister, who attended a high-level seminar on the Belt and Road Initiative co-hosted by the European Bank for Reconstruction and Development, U.S. Center for Global Development, and Reinventing Bretton Woods Committee, said it was the first time he had attended a seminar on the initiative organized entirely by foreign institutions.
This indicated that the international community was paying high attention to the initiative, and had great expectations for its contribution to global economic development, he said.
International financial organizations have recognized that the Belt and Road Initiative is "the most important public product in today's world," Zhu added, calling it an important Chinese contribution to global peace and development.
The initiative aims to revive the ancient trade routes through an overland Silk Road Economic Belt and a 21st Century Maritime Silk Road, enhancing trade,infrastructure and people-to-people connections between Asia, Europe and Africa.